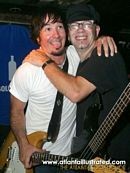 I am rocking now
Yesterday was my friend,
Mary's
birthday. I was really excited to see her for her birthday. I know she has mentioned Metalsome Monday in her blog before, so I was pretty darn happy that I was going to have a chance to check it out for myself. This is not child's play. We have been to places like Val's where anyone can get up there and sing a song, but that does not seem to be the case here at 10 High. Everyone that got up on stage is part of a local band. I have a professional organization like URISA to network in, these guys have Metalsome Monday at 10 High. And the band! My gosh!!! They can play anything from Prince to Pantara. And they sound so much like the real thing. I am amazed!!!
So, I got the chance to buy my girl a beer for her birthday and stay out way too late, as I did as much destruction to my eardrum as I dare for one evening. I think I will have to go back. I think next time I will make sure that I streak my hair blue and purple and maybe get a tattoo. I guess the phrase really is true, "Dress for success."