Christmas cheer is finally here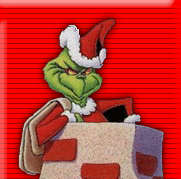 Someone forgot to tell me that Christmas takes the back seat when you are
3 months
away from your wedding. But, thankfully to my honey, I am beginning to get into the Christmas spirit. And I love holidays! Always have, I have just had a lot more on my plate these days.
So, we decorated our tree and put vintage lights around the entry way from the foyer. It looks great! I am loving it! And we do not have the Charlie Brown tree I thought we would have. We have a nice, full tree with lights and ornaments. Woo-whooo! Now, if I were really hip, I would have a digital camera and I would have taken a picture that I could post, but instead, I took a picture with a disposable camera and I am waiting for the pictures to be developed.
Our only concern with the tree is our adorable dog, Cassie. She seems to like to eat needles from the tree. I have no idea what made her want to do that, but we had one heck of a time trying to stop her. Maybe they will add something to her diet. At least she does not climb the tree or try to play with the ornaments.
We are trying to start a new tradition as well. We are going to watch "The Grinch Who Stole Christmas" Friday night, with some friends. We are hoping that we can make that a yearly event and start inviting all of our friends. That would be our own Christmas party. I even got a great recipe from Mama Castro for Egg nog. Hmm.....
So, here I am with all my cheer! Happy Holidays and let's all look forward to the new year!